The USG Series Kilowatt High Power Laser Diode Driver delivers incredibly stable output even at maximum output levels for the most demanding applications. Featuring a tight feedback control circuit and minimal current droop, this driver is state of the art.
Highlights
Ultra-High Current Laser Diode Driver: Up to 10KA/100us QCW
Huge Power & Energy per Pulse: 2MW & 200 Jule per Single Pulse
Powerful QCW Capacitor Charging Power Supply for Kilowatt Laser Diode Driver: Tight feedback circuit to keep a stable and precise constant current
Huge Capacitor Bank: up to several F (Farad) for the Best Current Droop at High Current & Long Pulse
Touch Panel Control: Optional tablet terminal can be a touch screen control
High current/High voltage/High Speed Laser Diode Driver: 10KA/180V at 5us rise/fall time
Double Isolated USB 2.0 Interface for highest noise immunity in harsh industrial environments
USG-5000/QCW/USB 10KA  High Current Laser Diode Driver
Built in the Oscilloscope: No need any expensive instruments to measure & watch LD waveforms!
Easy Control: Everything is controlled by user's PC, or Optional Tablet Terminal
Digital Oscilloscope/Spectrum Analyzer/Pulse Generator as Options: up to 10MHz/60MHz and100MHz-500MHz bandwidth as an option
High speed current sensing device to sense and display in real time.  Output current is sampling and regulated every micro-seconds.  This technique guarantees the precise constant current control for customer's wide range of Laser diodes.
Output Voltage Selection features to maximize the 100% output power at very low output voltage: USG-XXXX/QCW can maintain 100% of rated output power even at 30% of rated output voltage.  This is also a unique feature of LIC's LD drivers.
USG-XXXX/QCW/SB Control Screen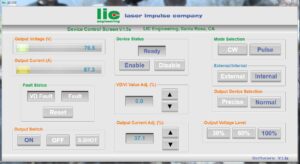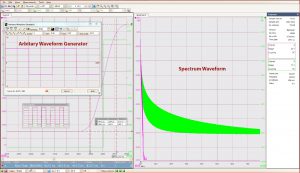 USG-XXXX/QCW/USB – 10KA/100us – Maximum Pulse Current Waveform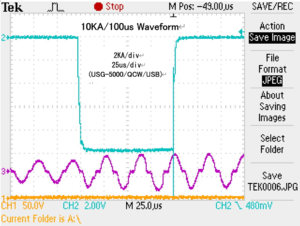 Ultra-High Power Laser Diode Driver Specification:

Electrical

CW average power:
Up to 5KW (Air Cooled)
QCW power & energy:
2MW & 200 jule/pulse
QCW output voltage:
up to 180V
QCW output current:
Up to 10KA at 15 mohm resistive load
QCW pulse rate:
Single Shot to 2KHz Maximum, +/-50ppm accuracy
QCW rise/fall time:
5us at 10KA/180V
QCW pulse width:
5us — 100 us
QCW pulse duty:
Depends on the pulse setting
QCW current droop:
Less than 1% at 10KA/100us
CW Output voltage:
up to 180V
CW Output current:
N/A
Ripple Current:
 N/A
Operating mode:
QCW
AC input voltage:
220V +/- 10%, three phase
Capacitor charging power supply:
Built in, Up to 5KJ/S (Air Cooled)
Output voltage selection:
30%,60%, 100% optional
Protection circuits:
1) Switching over currents, 2) Load over currents, 3) Over load,
4) Over temperature, 5) Pulse width/pulse rate, 6) interlock
7) others (total 15 parameters) Refer to manual for detail.
Current monitor sensitivity:
Depends on the models
Current display:
Real time 10 digit A/D converter resolution
Voltage display:
Real time 10 digit A/D converter resolution
Trigger mode:
Internal pulse, External signal & Manual mode
Sync. output:
IKO BNC
Sync. delay:
Programmable On AWG window
External trigger input:
IKO BNC
Pulse generator output:
2Vp-p, at 6000 impedance
Interface:
Isolated USB2.O
Available driver:
LabView
Control terminal:
Windows base PC and Optional Tablet PC (Windows 7, 8.1 & 10)

Mechanical

| | |
| --- | --- |
| Cooling: | Forced air |
| Output cable: | Custom made stripline 1m |
| Ambient operating temperature: | 0-40 'C |
| Storage temperature: | 0-80 |
| Ambient humidity: | Less than 80% (not condensed) |
| Dimensions: | 9.7″ (H) x 17.0″ (W) x 22.0″ (L) |
| *1) | Current droop depends on the pulse width selected. |
| *2) | N/A |
| *3) | N/A |